THE WRITER'S PATH HOME
Reclaim Your Writing Life
HAVE YOU LOST YOUR WAY
ON YOUR WRITING PATH?
When you were young, perhaps you ventured into the world with plans for a career and/or family, as well as a desire for a rich writing life. You were idealistic, with dreams of fulfillment in your work, at home, and through your writing. Ambitious and energetic, you were ready to take it all on.
At some point, you got sidetracked. You followed the well-intentioned advice of your elders and took the safer route toward financial security. Or you made the decision to stay home with your children. As you juggled the demands of work and/or family, something went missing: your connection to your deepest calling as a writer. Now you feel a disturbing misalignment between your full creative potential and the life you're living.
It's time to get back on course and speak your truth.
It's time to reclaim the lost pieces of your writing life and renew your faith in the still, clear voice inside.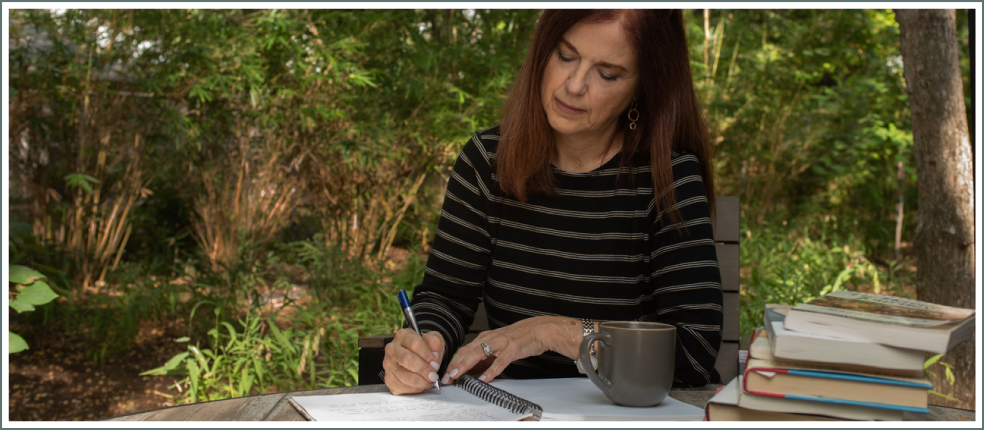 CLAIM THE PRIMACY OF
WRITING IN YOUR LIFE
The Writer's Path Home is a deep dive into your life story. Using writing practice to follow the arc of your writing life, you'll celebrate past victories and honor hard-earned losses. You'll find greater ease with your past and access your deepest desires. Drawing on the wisdom of your experience, you'll write your way home and find your highest calling as a writer.
"This process helped pull the broken and seemingly disconnected aspects of my life and career into one piece, and healed old wounds in the process. The writing assignments brought me face-to-face with choices that steered me away from my path, and helped me to understand it on a deeper level. Saundra was a firm and gentle guide to shepherd me through this journey.
"

~ SHEREE SCARBOROUGH, ORAL HISTORIAN AND AUTHOR OF
AFRICAN AMERICAN RAILROAD WORKERS OF ROANOKE:
ORAL HISTORIES OF THE NORFOLK WESTERN
WRITING AS A WAY OF HEALING
I know what's at stake when you don't step up to claim your writing life. Unfulfilled callings result in anger, resentment, and sometimes illness. Some folks feel guilty shaping their lives around their writing. They believe they should be spending more time with their families or creating more income.
But when you fulfill your life's purpose by answering the writer's call, not only are you a happier parent, partner, and friend, you model something for the people around you. You give them permission to answer their own call.
The Writer's Path Home will help you reclaim your writing life, trust your inner voice, and forge a new writing path that more accurately reflects who you are now.
During this 4-week journey, we'll gather weekly to write and share. Using the story arc as a framework, the writing exercises will guide you to explore seven themes on your quest:
Explore your dreams as a young writer.
Reflect on the steps you took that successfully, or unsuccessfully, helped you realize those writing dreams.
Dive deep into the internal and external challenges that stopped you from reaching your writing goals.
Appreciate the people who guided your writing life. Mourn for the mentors you never found and discover new ones.
Learn ways to carve out quiet time and listen to your inner voice.
Understand how to integrate your past and present to write a new wise way home.
Reclaim time for your writing in your daily life, no matter the circumstances.
Thursdays, February 4, 11, 18, 25
9:30 – 11:30 CST
$497
Includes the course itself, plus access to April 3rd all-day, online writing retreat ($275 value) and 30-minute consult with Saundra ($250 value).
Two monthly can be made for $275/month..
"When I began this work, I was trying to return to a regular writing practice after a break with small children at home. I also struggled with whether writing was still what I wanted to do because it wasn't coming easily. Through this course, I figured out that it's possible for me to have a writing life again. This process is a great way to get past a block, get started on a creative endeavor, or decide if you want a career change.
"

~ ANDREA NENQUE, PhD, STUDENT IN POLITICAL COMMUNICATION,
FORMER JOURNALIST, AUSTIN AMERICAN-STATESMAN
CLAIM YOUR PLACE IN THE
LINEAGE OF WRITERS
If you've lost faith in your calling as a writer, it's time to take the
The Writer's Path Home.