WRITE THE WISE WAY
HOME EVERY DAY
WRITE THE WISE WAY
HOME EVERY DAY
You believe in both excellence and compassion. You long to fulfill your deep purpose as a writer, but your expectations for yourself and your desire to be there for your loved ones keeps you from taking your calling as a writer seriously.
You believe in the power of the well-made thing and the process it takes to get there.
But you're not sure if your focus should be on perfecting your craft or releasing your
creativity.
The conflict between your needs and your loved ones' needs and the pull between product and process have brought your writing practice to a standstill.
It's time to write the wise way home. I can show you how.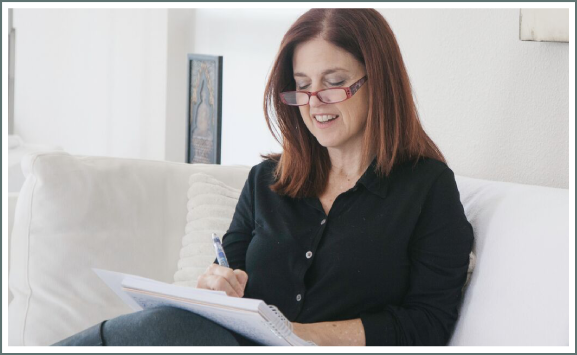 From September 2017 to September 2018, my life was uprooted as I moved back and forth across the country with my teen daughter to find her treatment for severe OCD. I had to let go of my business, my blog, and finally, the book I'd been writing for years. None of it mattered. Over the course of our year on the road, the split I'd always felt between writing and motherhood melted away. Wherever we were, I found myself at home on the page.
Whether I was in my studio, a hotel room, or a treatment center, my daily writing practice began with the topic, Where I am. It was my compass. Whether we were in Austin or Houston or Middleboro, Massachusetts, I was present, feet on the ground, hand moving across the page. At home in myself, I could face anything. With my mind clear, I could listen for direction.
Toward the end of our journey, when my daughter and I were safely home back in Austin, I felt an urgency to digest what had happened to our family and to understand how it had changed me. I had wanted to write about parenting OCD for years. Now that there was a story to tell, I began working on a memoir, Fierce Motherhood: A Year of OCD Hell, Healing, and Coming Home. My daily practice and the process of writing the book have given me space to hold life's hardships and its wonder.
Writing brings you closer to that bigger, wiser person inside of you, the deep self, the one who knows. It turns out, that's where the best writing comes from, which is why I like to say writing is both path and destination. We're always writing toward the writer and the human being we were born to be.
YOU'RE READY TO WRITE THE WISE WAY HOME IF YOU BELIEVE:
YOU'RE READY TO WRITE THE WISE WAY HOME IF YOU BELIEVE:
The desire to write is not a choice,
but a sacred calling.
IT'S YOUR JOB TO SHOW UP AND FULFILL YOUR PURPOSE.

Your responsibilities to your loved ones and to your creative work are of equal value.
THEY SPRING FROM THE SAME SOURCE—YOUR VALUES—AND CAN FEED EACH OTHER.

There is no one single right way to write.
YOU NEED TO FIND YOUR OWN WAY, BUT NOT ALONE AND NOT WITHOUT GUIDANCE.

You deserve creative sanctuary.
YOU NEED TIME AND SPACE TO LISTEN DEEPLY AND TO NURTURE THE WRITER WITHIN.

Self-compassion and self-kindness are essential to your
writing practice.
ACCEPTING
YOURSELF, YOU BUILD THE PATIENCE WITH YOURSELF THAT IS NECESSARY ON THE WRITING PATH.

You must strive for excellence, and
at the same time, accept that you are wildly imperfect.
THE MIDDLE WAY IS THE WISE WAY.
READY TO COMMIT TO
YOUR WRITING?
READY TO COMMIT TO
YOUR WRITING?
The Continuous Practice Community is a free, online gathering of writers committed to supporting one another's daily writing practice. When you become a member, you'll also receive a copy of Say Yes to Yourself and No to Your Loved Ones: A Writer's
Decision Guide to Starting Your Path Home.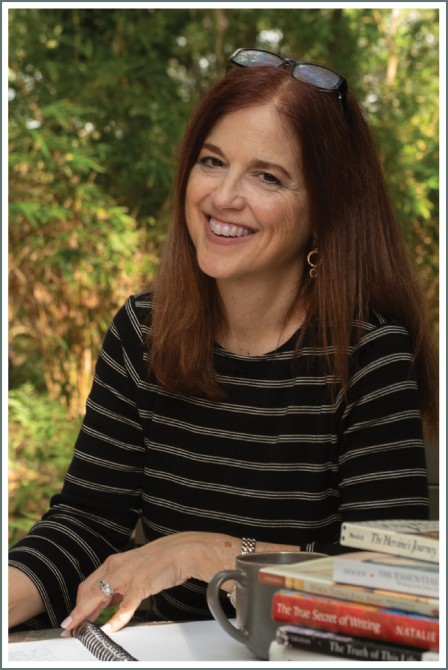 For the past twenty years, Saundra Goldman has taught writers to speak their truth, bring their whole self to the page, and claim their place in the lineage of writers. She has served as assistant to Natalie Goldberg, author of Writing Down the Bones, and taught Goldberg's work to hundreds of students nationally and internationally. Her articles, essays, and reviews have appeared in Literary Mama, Brain, Child, Babble, the Texas Observer, the Austin American- Statesman, and Theater and Drama Review, as well as in numerous exhibition catalogues. Saundra holds an MA in Art History from the University of California, Berkeley, and a PhD in Art History from the University of Texas at Austin. She's currently working on a memoir, Fierce Motherhood: A Year of OCD Hell, Healing, and Coming Home.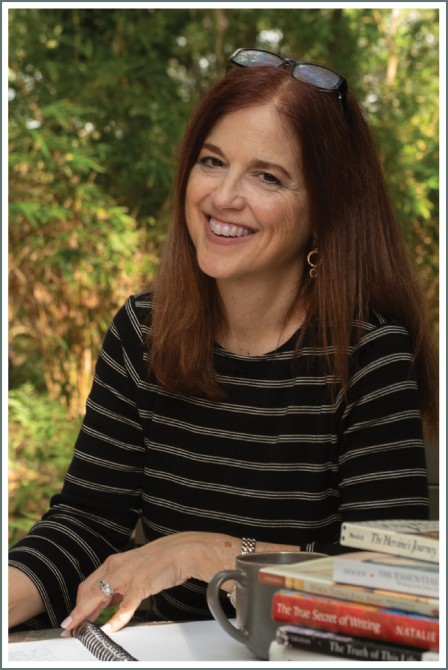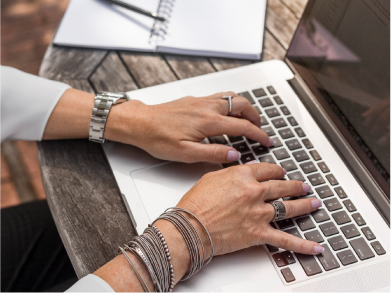 Map where you've been and where you're going. Follow the story arc of your life. Dive into the Heroine's Journey Home e-course and claim the primacy of writing in your life.